The Row
"The ROW is Tetherow's version of a pub and offers a casual, family-friendly dining experience". I wouldn't think to bring my kids to The ROW but I wasn't raised with a silver spoon in my mouth and lived on one of the best golf courses in Oregon. They do have a $7 kids menu though. When my kids were young, the kids menu was an extra plate. Meaning, whatever the Wife and I got, the kids got to share some of it. Now you can get a hummus plate for $7 for your tykes.
On this visit to the Row, I went for lunch and picked the French Dip.
FRENCH DIP $13
Cascade Natural roast beef, caramelized onions, swiss, demi au jus with horsey aioli on ciabatta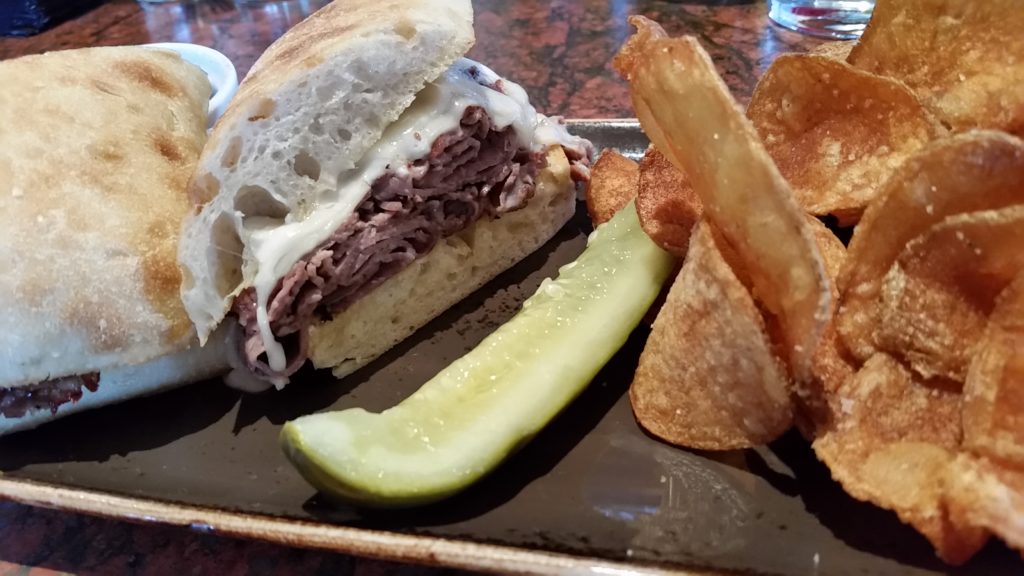 The sandwich was good. The beef was sliced thin and horsey aoli gave it just enough kick. Normally I ask for some extra horseradish but it wasnt necessary. Sides included are chips or veggies. I wasnt thrilled with the chips. Next time, and there will be another visit for the French Dip I will upgrade to fries or keep it healthy and stay with veggies.
The ROW
61240 Skyline Ranch Rd
Bend, OR 97702
(541) 388-2582
http://tetherow.com/go/dine/