Brother Jon's Alehouse Breakfast
Brother Jon's Alehouse has one of the best kept secrets known as Breakfast served on Saturdays and Sundays from 8:30 – 11:30am. I've been there for a few weeks in a row now and have enjoyed huge portions of amazing food for next to nothing.  Plus no one is there (right now) so there is no wait and I get to put on the game I want to watch on one of their tvs.
The menu is small right now but hopefully will be expanding as the breakfast business picks up. They always have a great special or two on the board. The Wife's favorite is when they have Bagels and Lox (some photos may or may not have been lifted off the Brother Jon's Facebook):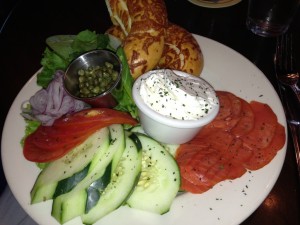 The Wife LOVES their bloody mary's. I will trust her judgement as I don't eat/drink them: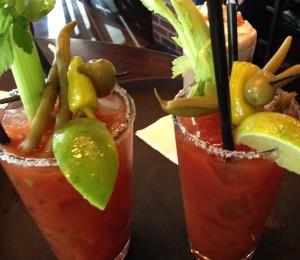 Their breakfast burritos weigh about 3 lbs I swear. I like to get mine "wet" with the verde if they have it.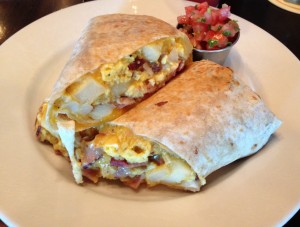 The french toast tastes great but I wish they'd give 3 slices instead of two like pretty much everywhere else does….I bet you that will change after they read this and feel my wrath!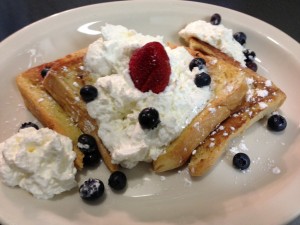 This special was incredible and I think I'll request it this Saturday if its not a special – chicken and a biscuit covered in gravy!! So good with a side of bacon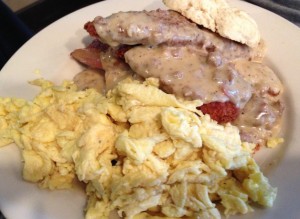 At least I got a little fruit on this occasion – Scramble with a side of excellent biscuits and gravy. Seriously, the biscuits and gravy might be the best I've ever had.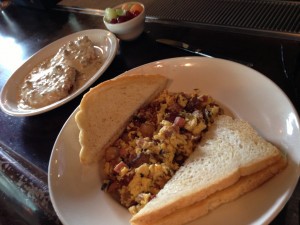 In my heart I don't want to post this as I like that no one knows about them serving breakfast and I don't have to wait 45 minutes to get a table. But I also want them to keep the breakfast going so I have a great spot to get my screwdriver and cure my hangover with gravy covered goodness.
Brother Jon's Alehouse
1051 NW Bond Street
Bend, Oregon 97701
(541) 728-0102