Five Guys – Bend Oregon
Opened Jan 14, 2016, Five Guys Burgers and Fries has finally made it to Bend. I say finally as Bend has been in need of a good/fast burger joint. You can give me all the "great, another chain restaurant" or "support local, go to Dandy's or Pilot Butte" all you want. But what I want is to get a good burger, fast, a place to sit, and get my money's worth. Five Guys satisfies all of these for me where others in town fall short.
This was not my first trip to a Five Guys so I knew what to expect. The Bend location met my expectations all the way down to the peanut shell covered floor.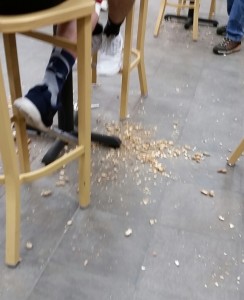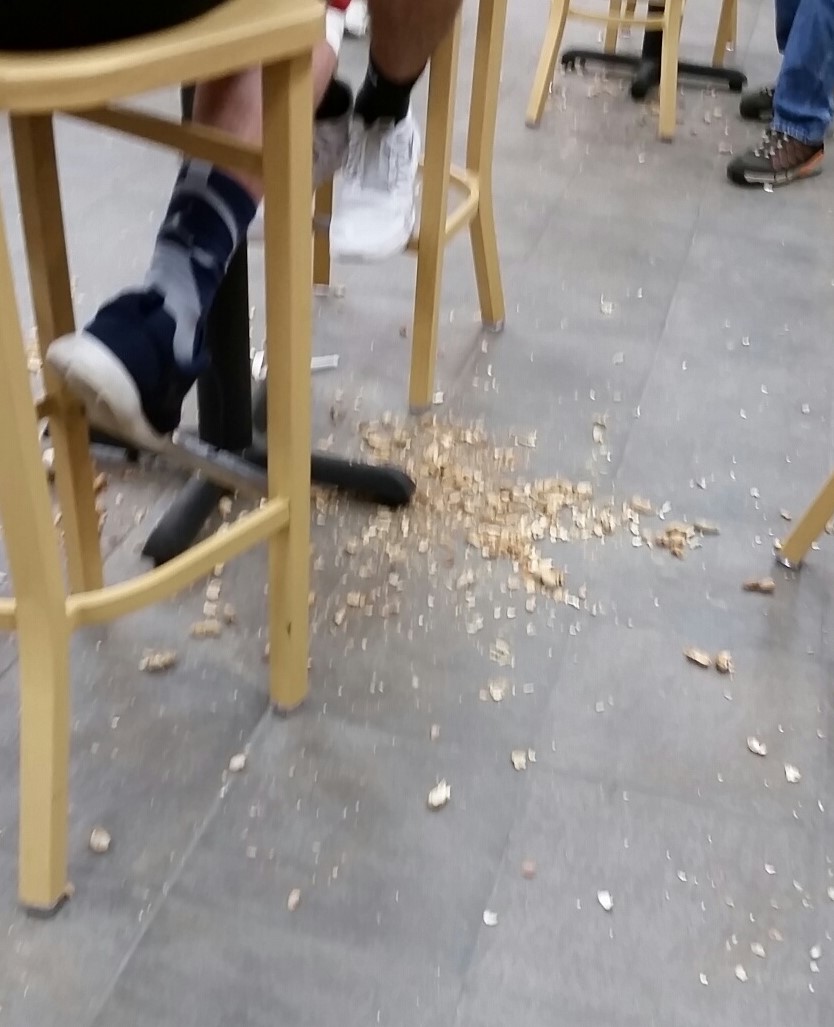 This, to me, is just stupid. I do not care to eat my meal in a pile of filth. Kids just throwing the shells intentionally on the floor and when its busy, no one available to sweep up. Yummy! Lets take the dirty atmosphere of eating at a ballpark and bring it inside.
Other than that, I do like Five Guys. We will stop at a Five Guys while we're traveling if we need a quick bite but dont want to get Wendy's or some other diarrhea inducing fast food meal.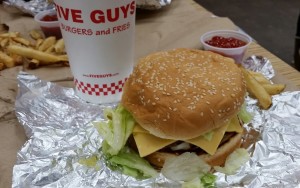 Five Guys offers 4 burgers – hamburger, cheeseburger, bacon burger, bacon cheeseburger. ALL of which come with 2 patties. You can opt for the Little version of all of these for $1.50 less. One patty is plenty. I forgot this and just got the normal Bacon Cheeseburger. The beef was a thick ball as the bun broke down. One patty would have been fine.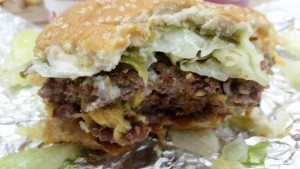 The toppings are all included in the price of your burger so load up. I usually keep it pretty simple as the toppings will make a mess of things. The fries are very good and they are always proud to tell you what farm they came from. On our visit, they were very salty. I enjoy salt with my high blood pressure and clogged arteries so I didnt mind. I thought the burger itself was under-seasoned but with the fries salty as hell, it all worked out.
Their shakes are pretty damn good too. We got the salted caremel (more salt!).
Five Guys Burgers and Fries
222 NE Emerson Ave, Bend, OR 97701
(541) 797-7787
Open 11-10