123 Ramen
One of the drawbacks to dining in Bend is that we lack authentic ethnic food. When I travel I LOVE to go out to eat as much as possible. Japanese food is a big one for us. So I was excited to give 123 Ramen a try in their shop on 2nd street.
I am a huge fan of a good bowl of Ramen and was really hoping to have a big hot bowl of it and put it into my rotation of go to spots. The menu is easy as 1-2-3 (oh man, I'm sure some other dopes used that line in their reviews….my apologies). Pick between 2 broths, pick 2 toppings and then garnish. $12
Here's my selection to make it easy on you….Beef Broth, Pork, Broccoli, Egg (extra buck). Done.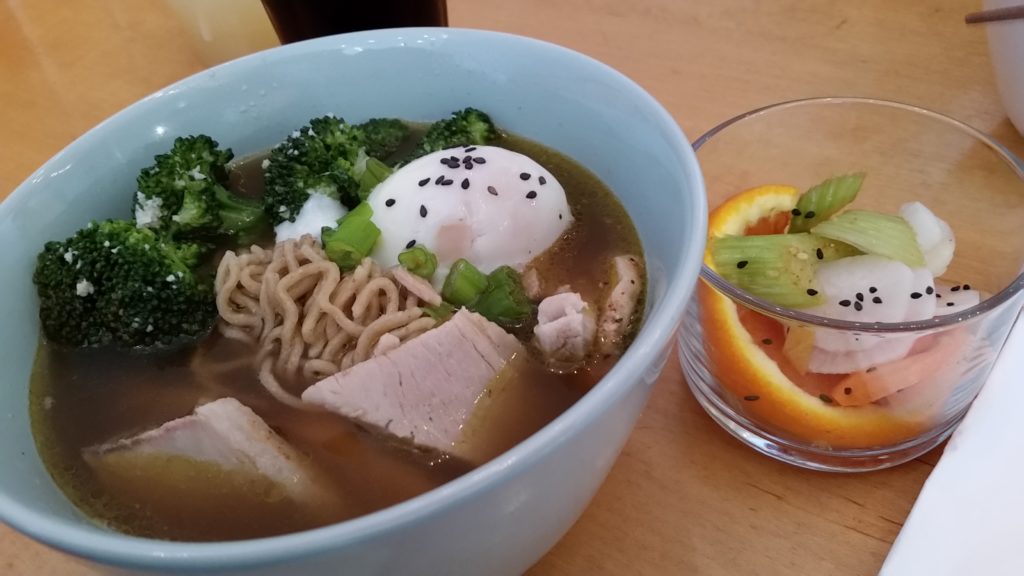 I found the Ramen to be OK. It is a very small bowl which explains all the complaints I hear about the price. $12 for a bowl of Ramen is pretty normal. But at other places in other cities you also get a lot more for that $12 such as bigger bowls and more toppings.
1 ) Broth – I found the broth to be very light and lacking salt. It must be a Bend thing as the other Ramen spot has the same issue. Also, its not hot enough temp wise. I want the broth to be crazy hot so when I spend a few minutes stirring up the noodles and mixing in my topping it remains hot. This broth started out warm and turned cold before I finished.
2 ) Toppings – I enjoyed the pork as it was tender and tasty but I'd much rather had it shredded to get some with each bite. The broccoli is good but not worth $2. Maybe with a bigger bowl you'd get more and then I wouldn't mind the charge so much. The egg is worth the buck and cooked perfectly.
3 ) Garnish – The cup of pickled veggies were a nice clean crunch to add some texture and change of flavor. I liked them in between bites. I chose not to mix in the cold veggies into my already cooling broth.
Bigger…hotter….saltier. Do that and its a damn fine bowl of ramen. But, just like this review, the Ramen was OK.
123 Ramen
http://123ramenbend.com/
1289 NE 2nd St. Bend, OR 97701