joolz
Located in Downtown Bend, Oregon is one of the best restaurants that apparently everyone (yet no one) knows about – joolz. I say that because the place is always slammed every time I go there but yet, when I tell someone about joolz, they have not been there or even know it exists. Or they say "Oh yeah, I've always wanted to go there".
Trust me, joolz is amazing. The Wife and I are always pleased when we get the opportunity to visit. Normally we'll sit at the bar and dine on one of the best bar happy hours in Bend. But since the bar seems to always be full with my readers that know whats what…we will grab any table available.
On this last occasion, joolz had a clam special – $12 for a bowl of clams in whatever sauce (I don't remember what they called it. I don't carry a notepad or anything when I go out to eat, just like the rest of you). Whatever that damn sauce was needs to bottled and sold to me directly! I wasn't even hungry but after tasting one clam, I used the shell to scoop up some of the broth and was instantly in heaven. I ate more than the Wife fo sho!
The broth was perfection. If you like spicy, this was for you and BOR likes spicy. But the broth wasn't overly hot, it was like a curry. Smooth, tangy, and spicy. I immediately asked for some more bread and demanded that this dish be added to the regular menu. If it is, I'd go on record as saying that these would be the best clams in Bend.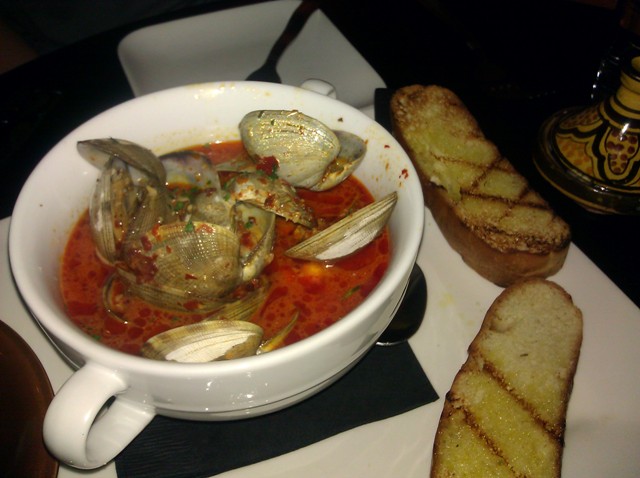 Normally I would go for the more traditional clams and chorizo but these didn't even need the sausage. That's right! I just said that a dish was SO good that it did NOT need pork. Now that's saying something special. I caught the Wife sipping the broth with a spoon when we didn't have anymore bread. These seriously were THAT good. 
We soaked about a loaf of bread into the broth and sucked it down like the hobos in the Bugsy Malone's – Down and Out scene. For those that dont know, Bugsy Malone with Scott Baio and Jodie Foster is one of the best movies of all time and I'll gladly watch it again with anyone that wants to.
joolz
916 NW Wall St
Bend, OR 97701
(541) 388-5094
http://joolzbend.com/dinner.html