Even though they have been open for a week, Deschutes Brewery is having their official grand reopening on Wednesday, Feb 1. Their Pub Pizza is really good! Good luck getting a spot. I heard there was a huge line on Sunday just waiting for them to open. 
Brother Jon's Alehouse put up their new signs and all of Facebook was a buzz about it.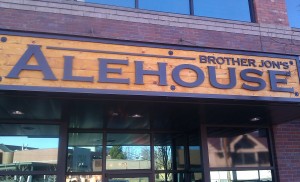 They are opening on Wednesday with a starter menu with the hopes of offering their entire menu next Monday. If you want buffalo mac, you'll have to head to the Public House on Galveston as the Alehouse will have a different menu but similar tastes. But you'll still get the Brother Jon's portions at a great price on new items like the beer battered fish and chips, ribeye and mashers, bangers and mash, pierogis, pork schnitzel sandwich, and more. 
Also, the Broken Top Bottle Shop (my bad, originally I called it Bachelor Bottle Shop – Thanks Liana for the correction) is trying to open up this week as well from what I've heard. The BBS took over the Abby Pub on College Way. I hear they will have bottled beer available for purchase in the old Wine Styles shop that was next to the Abby Pub and you can drink them in the restaurant side. 
And it's First Friday this week! I actually avoid downtown on First Fridays but I know 50% of Bend residents don't. Busy week!