Dang's Vietnamese
Bend Oregon is finally on the map. We now have three Vietnamese restaurants in town. Dang's Vietnamese restaurant is the newest and I was an instant fan. I have been to Dang's a ton this summer for Pho and other dishes not easily found in Bend.
There were two other Vietnamese restaurants already in town. I do love Tan – the owner of Pho Viet and Sweet Saigon. But Dang's is solid and cheaper by around a buck a dish.
Located over by "how is it still in business" Outback Steakhouse, Dang's offers some great food for a really great price. @SonofaBOR loves to get what is basically a kids pho – Beef soup with rice noodles. No meat included and its only $5.50 for a huge portion. Below is what we'd get on a typical visit.
Lean Brisket Pho (P9) $7.95
I've written up my process for eating Pho for you white boys before:
For you white breads out there, here's how I doctor this sucker up. I shred up the basil and toss it in along with a couple slices of the jalapenos even though I don't intend to actually eat the peppers.
Then I squirt in a little Siracha (hot sauce) and some of the stuff in the red bottle that looks like red chili flake sauce. I really don't know what it is but its hot. The Wife adds in Hoisin sauce which makes the broth a little sweeter. Most people will throw in the bean sprouts but I don't normally, I just want to get to the noodles and the beef and the sprouts get in my way. A little squirt of lime and its time to dive in.
Now that you have the goods in the bowl you have to use your chopsticks (or more likely a fork for you) to loosen up the stick noodles which will most likely be sort of stuck together at the bottom of the bowl.
Then its time to dig in. Get your face in there and slurp it up. You don't have to be polite about it, slurp away, get after it.
The Banh mi with tofu is only $3.95. Banh mi is like a baguette stuffed with zero ingredients found at Subway. Too many veggies for me so I have nothing to say about it, but it looks and smells amazing.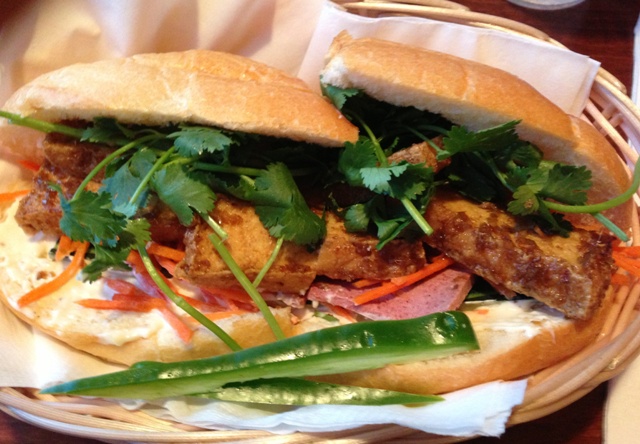 The wife is always adventurous and will often get something off a specials menu. On one of our many visits she got this crazy ass omelette stuffed with prawns and everything I hate. Actually that's not true, its basically all of the ingredients you get in a simple bowl of Pho, wrapped up in an omelette.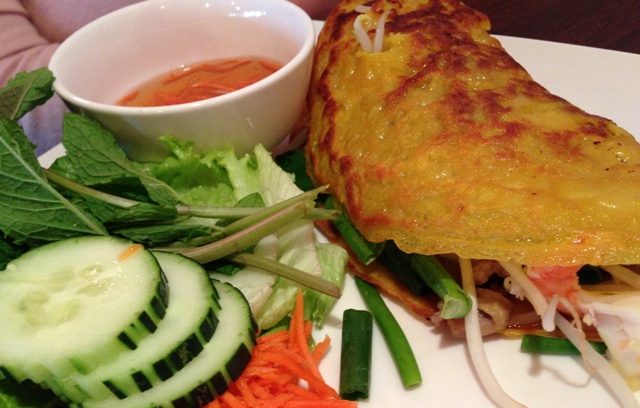 And then there is the Vermicelli plate (which really should be served in a bowl) – Whatever meat (we get pork) served with rice vermicelli noodles, bean sprouts, a bunch of other veggies, peanuts and some crazy sauce.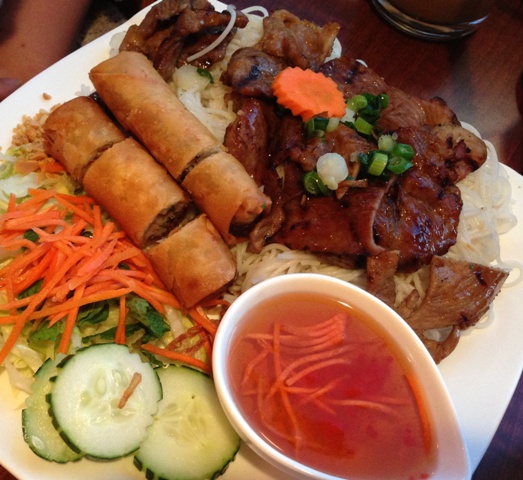 Dang's gets a top recommendation from me. You should find a friendly staff, quick service, large portions of great food at an awesome price. I highly recommend everything you see here PHO sho!
1180 Se 3rd St
Ste C1
Bend, OR 97702
(541) 385-8888