Trattoria Sbandati
Trattoria Sbandati is one of my favorite restaurants in Bend and quite frankly, the only real Italian option. If you want chicken alfredo or spaghetti and meatballs, then Pastini Pastaria is for you. If you want to take the kids out to the best bread sticks and salad bowl, then obviously Olive Garden is your speed. But if you want some of the best Italian food that I personally have ever had, then I'll see you at Sbandati some night.
A search at google for 'italian restaurants bend oregon' returns 7 pizza places – only two of them are any good and one is out of business. Not even Olive Garden or Pastini show up in the local results. That's just flat out sad for us all that we don't have more Italian, or ethnic food for that matter, in Bend.
My first and second reviews of Sbandati's both were during the time when they only offered a 4 course prix fixe menu. They have since stopped doing the prix fixe and have an ala cart menu. And there is no better way to show your lady that you're a gentleman than to take her out a restaurant, a real fancy one and let her order ala cart.
On this particular visit, we decided on getting a new menu item of cod in a red sauce and a steak (better descriptions coming). First we shared the beet salad…the Wife eats the salad while I eat the beets.
Insalata al Gorgonzola – Roasted golden beats, greens, gorgonzola and walnuts – $11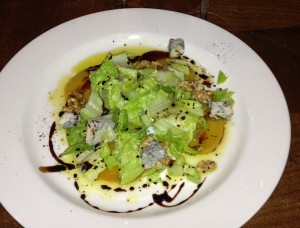 For being a salad, its quiet good. Its a nice, light salad packed with flavor with the combo of beats, walnuts and of course the gorgonzola. That's about as nice as I can talk about a salad that doesn't have any meat on it.
Filetto di Manzo – Fire seared filet mignon served with parmigiano reggiano, salt packed Ligurian capers, grilled lemon, Tuscan extra virgin olive oil and an aged balsamic vinegar. $29
MERLUZZO ALL'ACQUA PAZZA – Pan seared Alaskan cod finished in the oven with white wine, tomato sauce, spicy olives, parsley and garlic served with house made grilled bread. $18
Both plates were licked clean (figuratively since we didn't want to look like savages). The Wife and I fought over who got to eat what but I won and the filet was placed in front me of after some serious boxing out. We swapped roughly half way through dinner…I may have eaten more than half the steak.
Seriously, the filet was cooked absolutely to perfection and just melted in my mouth. It doesn't need the cheese or balsamic so I sort of made that into a salad.
The Wife's cod photo didn't come out great so you can see a  little of it at the top right. It honestly wasn't much to look at as it was covered in sauce. The cod and sauce were perfect. We mopped up the sauce with the grilled bread. Both dishes I highly recommend.
I've gushed enough.
Trattoria Sbandati
1444 N.W. College Way
Bend, Oregon
541-306-6825
http://www.trattoriasbandati.com/