Noi – Bend Oregon
Noi Thai Cuisine is the newest Thai Restaurant in Bend, Oregon as of this posting. Taking over the old Typhoon! restaurant space seemed like a good fit as most of the interior stayed pretty much the same. One thing that has changed are the rice options. Is Bend sophisticated enough to choose among the FIVE rice options? I love Thai food, I love Asian everything, but even I don't need to choose between Jasmine, Brown, Coconut, Garlic, Ginger, or Sticky rice. White and brown rice is all we need…wait, is that racist…sorry, never mind. U-N-I-T-Y.
You also get to choose between 0 and 5 stars for how spicy you'd like your meal. When we ordered the Crispy Garlic Chicken, the waitress talked us down from 4 stars saying that it is really REALLY spicy and we settled on 3 stars. The Wife and I both agreed that we'd have to go for 5 next time as 3 didn't really kick it up like we thought.
First we added on a Thai Salad ($6.95 ala cart but $.495 with an entree') to our order as an appetizer.
Thai Salad – Their famous peanut sauce is drizzled as a dressing on top of fresh leaves of lettuce, red onion, slices of cucumber and tomato, and a slice of boiled egg.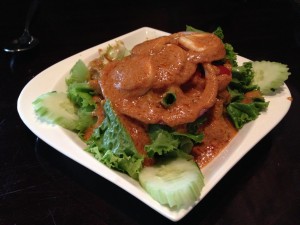 The salad was quite large. Big enough to work as a solid lunch salad for most people. The peanut sauce dressing was very good and lots of it. Nothing worse than a restaurant going cheap on the sauce and having to request more only to get charged for it (uh hem, cough cough Toomies / Hardy's cough throat clear). I don't care if it's only $0.25 more, that's just weak. The Wife and I enjoyed the salad a lot and were more than satisfied splitting it as our appetizer.
The hostess, waitress, water / busboy, a friend of ours and even the menu all said to get the crispy garlic chicken.
Crispy Garlic Chicken – Juicy on the inside, crispy on the outside deep fried chicken pieces, stir fried with a honey-infused mix of garlic and crisped basil leaves. $16.95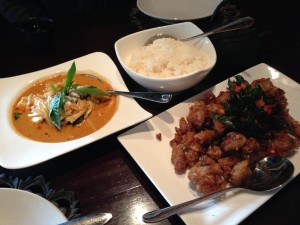 The Crispy Garlic Chicken is amazing. They should just give you a sample, kinda like crack, first one's free. Man, you'll be so jonesing for another taste that you'll steal your grandma's VCR player and pawn that shit. Just like they describe on the menu – crispy on the outside and juicy on the inside. The fried basil leaves are a great addition and just fun to eat.
I also ordered chicken curry – the curry is a staple of mine with Thai restaurants to judge how I'm going to like them…..like chicken enchiladas are the safe play for judging Mexican restaurants. We all have our go-to dishes when trying some place new right? Also very good. Excellent coconut broth and heat. Generous portions too.
I'd recommend giving Noi a try and if you do, definitely get the Garlic Crispy Chicken.
Noi Thai Cuisine
550 NW Franklin Avenue Suite, 148
Bend, Oregon 97701
Phone (541) 647-6904