boken – CLOSED
***THIS RESTAURANT IS CLOSED***
When boken first opened the Wife and I went for dinner, ate some very tasty (and very small) dishes, spent a small fortune, and left hungry. Our dishes were great in quality and presentation, but very small. I need more for my money. While we have not been back for dinner, we both have been back for lunch separately. She loves boken for lunch and so far, I am liking it too.
As I was looking over the menu, Chicken Skin Cracklings just jumped off the menu. Skin…Crack….mmmm. OK lets try it, it was only $3.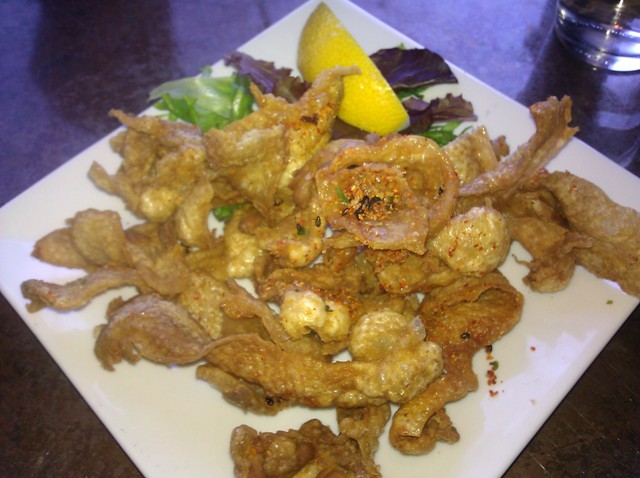 It was exactly what you'd think it would be. My buddy that I was having lunch with helped eat these and we made it about halfway through the skins before I made the mistake of squirting the lemon on for a change. That made them soggy and unpleasant. Which was good cause neither of us need to eat that much chicken skin.
The waitresses recommended the Soft Shelled Crab Banh Mi – Tempura Fried Blue Crab and Spicy Mayo Vietnamese Sandwich w/ Cucumbers, Pickled Daikon & Carrots, Cilantro, Serrano, Mayo, on a Crispy Baguette for $7. I also went with the Asian Style Sweet Potato Fries for an extra $2.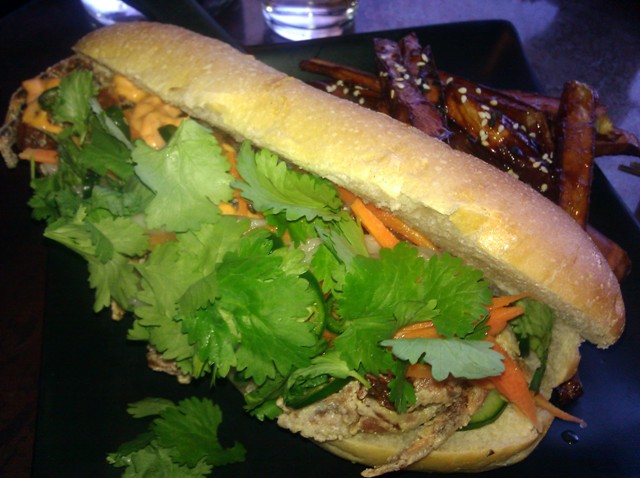 I absolutely loved this sandwich. I really love soft shell crab and there were probably two whole blue crabs stuffed inside and covered with all those great vegetables. Yes, I just said that I, the fantastical BOR, enjoyed the vegetables. Personally some bacon would have gone a long way but the flavor combination of and crispy/brightness of the veggies complimented the blue crab perfectly.
The sweet potato fries while flavorful, where saturated with sauce.
Overall its a great tasting sandwich. I wish it was a little bit bigger. As with almost any Asian food, I was hungry an hour later.
boken
852 NW Brooks St. Bend
OR, 97701
541.706.9091