Slick's Que Co. – CLOSED
***THIS RESTAURANT IS CLOSED***It appears to have relocated to Sisters.
I've driven by Slick's Que Co. on Revere a ton of times but never made it inside. I'll admit that I'm a Baldy's BBQ fan and didn't really feel the need to venture out. But Slick's Que Co. opened up right at the same time that I was taking some time off from writing. Venturing out wasn't really my priority over the last 5 months.
Sadly, I wish I hadn't taken a break in writing and trying the new places in Bend. Especially if the newbies are as good as the combo plate I had at Slick's BBQ. On my first visit the friendly gal behind the counter (where you order) gave me a sample of their Burnt-ends Brisket while I made up my mind. The Burnt-end wasn't burnt but it was tender and flavorful.
Brisket is a weird cut of beef and so when it is smoked, the edges tend to get tough and somewhat burnt. So many BBQ joints will chop the ends up and drench them in BBQ sauce. The "end" piece that I tried tasted and had the textural integrity of a great chunk of brisket, not tough or burnt at all.
The "burnt-end" was tasty but I decided on a combo plate of Brisket and Pulled Pork along with a side of beans and slaw. The side options include garlic mash, mac n cheese, blah blah. But that's not really what you're here to read about.
Combo Plate of Brisket and Pulled Pork – $12.75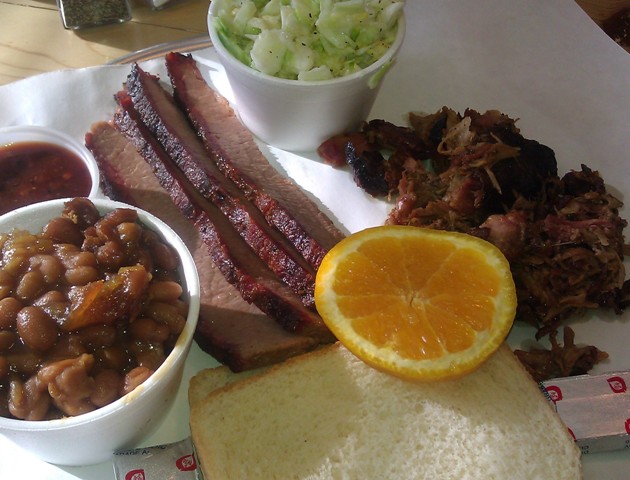 Normally I don't get into the actual ambiance or decor unless there is something out of the norm or annoying. I'd rather just tell you about the one dish that I ate on that one visit. But on this occasion, the western movie playing on the one tv in the restaurant got me thinking. If you're going to play a western all the time in what appeared to be a kind of cookie cutter/starter edition of a BBQ restaurant atmosphere**, I'll play along with one of the greatest western's of all time:
 The Good – The pulled pork was great! Tender and juicy and packed full of smokey goodness. The brisket was good, a tad (and I mean really slightly) on the dry side. The brisket was fine but it was definitely better with BBQ sauce while the pulled pork was amazing with or without it. 
The BBQ sauces were very good. Both the regular sauce that is on all the table and the spicy sauce by the soda machine are really really good. I dipped the brisket and pulled pork in both and enjoyed it all. Tangy, spicy, goodness.
The speed of service. I know that the meat I'm about to eat was smoked the day before so having it ready is not a bad thing. The ordering process is like a cafeteria line but they keep the tray/plate on their side. It goes fast and you pay, sit, eat, just that fast. 
The Bad – white bread/orange slice. While there are many many BBQ joints in the south that will server white bread with meats, it is a pretty lame ass side. I'm no expert by any means but I served time (meaning lived for 3 years) in Texas and had plenty of Texas style BBQ. Again, no expert, BUT the places that I got white bread I also received a mountain of smoked meat. Here in Bend, just give me some "Texas Toast" and I'd be happy.
The Ugly – The side dishes – I was ok with the beans and slaw but they were not anything special at all and I didn't eat much of either one. I only tasted a small sampling of the mac n cheese my friend had and it was not good. Flat out bland. Could have just called it mac. The good thing about the sides are that you get plenty of them. So if you find one you like, you'll get your fill.
I'm actually excited to go back to Slick's to try something else, possibly the ribs. Glad to have another option for BBQ in Bend even though I was fine with Baldy's. Its good to have some healthy competition, even though neither are healthy options. 
Slick's Que Co.
http://www.slicksqueco.com/
**Meaning the shit on the walls didn't seem to match up with a typical Texas BBQ restaurant. There is a dented trombone, old license plates on the walls, old timey western movies – bbq isn't exclusively old school cowboy cooking, there is great modern bbq. There is just random kind of stuff on the walls that didn't really mesh. I loved the photos of what looked like the family involved in the business but outside of that I didn't get it.