Pho Viet & Cafe
I've written about Pho Viet & Cafe before and tried to explain to you pale faces that should try pho. Don't be scared of trying something new, get in there and get a P6 – beef broth noodle soup with lean brisket. I eat it at least once a week. If you are adventurous, get the P1 which comes with all sorts of crap like tendon, lean and fatty brisket, meat balls, flank steak, I think I saw an eye socket (just guessing). It'll put some hair on your chest.
This time I'm going to show you something new that any white boy can eat. The V1 – Special Combination Vermicelli Bowl.
Rice Vermicelli Bowl / Bún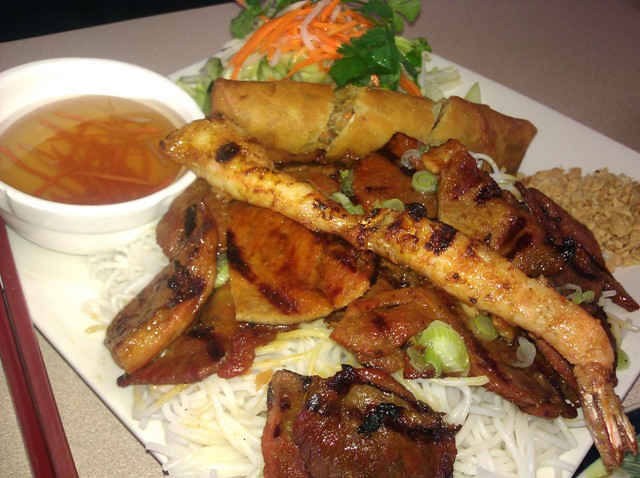 V1. Special Combination/ Bún $13.95 – Served with Soft Rice Vermicelli Noodles, Fresh Bean Sprouts, Shredded Lettuce, English Cucumber, Various Herbs, Crushed Peanuts, accompanied by our house special "Nuoc Mam" sauce AND Imperial Rolls, Shrimp, and Grilled Pork.
There is nothing on this plate that isn't just awesome. I always get a big bowl instead of the plate. It seems that American's like the plate layout but the owners say they eat this dish in a bowl and mix it all together. The veggies and noodles are so light and it balances the heaviness of the pork and fried Imperial Roll.
Pour it all into a bowl or mix it together on the plate and pour the fish sauce and Siracha over it for some kick. Even though I've mastered the chopsticks, I usually opt for a fork when I get to the bottom and want to just shovel it into my fat face. It gets pretty saucy and spice at the bottom as there isnt much to soak up all the fish sauce so a lot of stirring is recommended. 
Pho Viet & Cafe Restaurant
1326 NE 3rd Street
Bend, Oregon 97701
541-382-2929
Open 7 days/ Week 9:30am – 9:00pm
http://phovietandcafe.com/